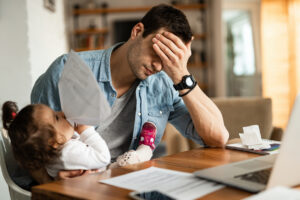 By Jim Ryan Jr. October 1, 2020
There is no "I" in TEAM. And according to a recent Wall Street Journal piece, there is no "REMOTE WORK" in Team either. Here is a quick summary.
In the WSJ article, a number of high profile executives weighed in on remote work. Virtually all are anxious to get back to the office. They believe that remote work hinders productivity, stymies team and culture building, discourages innovation, obstructs employee training and will tend to lessen loyalty and commitment to the employer:
– From Jim Fish, CEO of Waste Management: "most of us are not hermits…. we need the social interaction."
– From Reed Hastings, CEO of Netflix: "I don't see any positives.  Not being able to get together in person is a pure negative."
– From Andi Owen, CEO of Herman Miller: "That unplanned kind of interaction that contributes so much to how we build relationships with people and how we build culture is missing."
– From Rajat Bhageria CEO of Chef Robotics, "You cannot get [the same] quality of work."
– From Laszlo Bock, CEO of Humu: "There's an emerging sense of executives saying 'this is not going to be sustainable'."
Even though most recognize that working together in a central office space is desirable, some acknowledge that remote work can be effective. Tim Cook, CEO of Apple: "I don't believe we will return to the way we were because we found there are some things that work well remotely." Mark Zuckerberg, CEO of Facebook: "We're going to do this [remote work] in a way that is measured, and thoughtful and responsible, and in phases over time."
Applying this learning to Rochester, here are my thoughts: 1) Remote work is most advantageous where commutes are long and real estate prices are high, i.e., in the large cities. In Rochester the human cost of commuting and the monetary cost of office space is significantly lower than in urban centers so the motivation for change will likely be lessened. 2) Some believe that instead of just shrinking in size, some companies may actually expand to provide more space and more social distancing – especially in call centers and other dense layouts. In addition to more private office spaces, there may well be larger open areas to connect employees but with more room for social distancing. 3) Even for those that continue to promote remote work, most will want to have a space where all employees can connect realizing that the team concept will always need to be fostered.
There are so many variables in play that the future of office space will be hard to predict once COVID is diminished.  As Warren Buffet said, "When change happens in the world, you adjust to it."